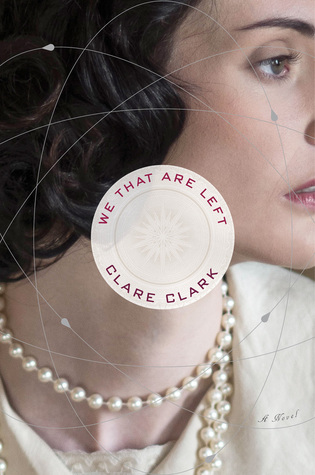 Format: Hardcover
Pages: 464
Source: Publisher
Genres: Historical Fiction
Publisher: Houghton Mifflin Harcourt
Publication date: October 13th, 2015
Read on: 1st to 12th of November, 2015
I was contacted by the publisher and offered a copy of this book for review. My opinions are my own and haven't been influenced in anyway by them
Thoughts: When I first received the e-mail from the publisher offering me to read this book, they compared it to Downtown Abbey. Now, I have never actually watched the series (cue gasp), but as you probably know by now, I do love a good Historical Fiction novel, so I accepted. I was happy I did.
The book opens in 1920, giving us an idea of what's to come. But the real story starts in 1910 and follows for the most part the lives of Jessica and Phyllis Melville, two sisters that couldn't be more different, and that of Oskar Grunewald, a shy, quiet boy that just might change both their faiths. Jessica, the youngest of the sisters, is more than happy with her privileged life, and sees working as a fun endeavour, something to do before finding herself a good husband. Phyllis on the other hand would be called "down to earth", she wants to see the world, be independent and doesn't care about going through hardships as long as she can achieve her goals. Oskar just loves numbers and is through this love that he will get to go to university. The three lives keep crossing through the years and as kids turn into adults, passions flare up, love gets a chance and secrets get uncovered.
Clare Clark has a great prose; captivating and she sure knows how to build the environment around her characters. All through the book, whether the scene was taking place in Ellunghurst or in London, the atmosphere created was impeccable. From description of the scenery to everyone's clothes Clark takes her time to set you in England during the 1910s. The main characters were all interesting in their own way, from the spoiled Jessica, to the stubborn Phyllis, none of the characters was perfect, but they were all exciting to get to know better.
That said, at several points I felt like the whole story was taking too long to develop. Some of the side stories (I feel) didn't really give enough to the whole body, at least not enough for the amount of time spend in them. For example, and avoiding spoilers, the whole ordeal with the medium, I felt that part could've been removed and still get the point across on Eleanor's character.
I enjoyed the idea of knowing where the story was going to end, but not how we got there. This is a perfect example where is not the destination, but the way there that matters. I knowing what I know about Downtown Abbey, I do believe that people who love the series are the perfect target for this story.