The Canterbury Sisters by Kim Wright
Format: eGalley
Pages: 336
Series: NA
Source: NetGalley
Genres: General Fiction
Publisher: Gallery Books
Publication date: Expected on May 19th, 2015
I asked and received this book through NetGalley for free. This review is not sponsored nor influenced in anyway. Thanks to Gallery Books.
Thoughts: I asked for this book right after I finished A Little Life by Hanya Yanagihara, hoping for a lighter subject, a nice "sherbet" book as I call them, since A Little Life was so emotionally charged. The book delivered exactly what I was expecting...to the point that was extremely predictable.
The book tells the stories of 9 women that are doing a pilgrimage to the Cathedral of Canterbury. In the spirit of Chaucer, through their journey each woman will tell a story of love and at the end there will be a winner declared. The main character, Che, has just lost her mother and to make things worst her boyfriend brakes up with her through a letter. Her joining the pilgrimage was a last minute decision trying to fulfill the last promise she made to her mom. Now, I don't have a problem with books like this being predictable, but I expect them to at least do their research properly. 1) In the first page there's the explanation of the main characters "Che", saying that it was related to the "Cuban" revolutionary. Ernesto "Che" Guevara was Argentinean, and while he got the Cuban citizen at a certain point, before dying he refused it, dying as an Argentinean. At least mention both facts? 2) Someone referenced in the book moves to a country South America: "ColUmbia I think?". You can probably say that this was an innocent typo, but for the record the country is ColOmbia, with an O. 3
)

Girl lost her phone, that apparently has no password whatsoever, even though she has all her info there. She is worried someone might use her cards...yet she never calls her bank or does ANYTHING to prevent possible fraud.
I wished the book would've more solidity to compensate for things like this, but since the story felt so typical, instead of being immersed by the story I kept being attracted to details like those, making it a just ok book for me.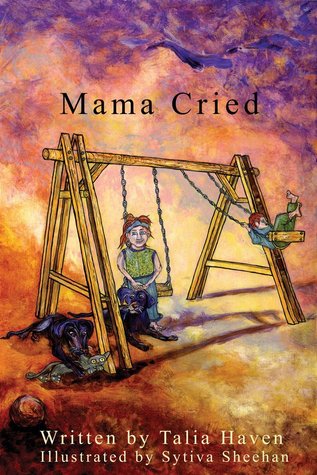 Mama Cried by Talia Haven
Format: PDF
Pages: 12
Series: NA
Source: Author
Genres: General Fiction
Publisher: Sheehan and Haven
Publication date: January 7th, 2015
I was asked to review this book by Deborah DeVore.
I was contacted directly to read and review this book and considering it was 12 pages I figured why not. Indeed it was a short read...and I am still trying to figure out what exactly the meaning of it is. It's the story of Jenny, a little girl that will have to make a very big decision in order to move on. I can't tell you more, without spoiling it, and I realize that is not much, but remember, it is only 12 pages. But they were 12 very confusing pages. There are a lot of holes in the story and while I think I got what the background story was, I am still trying to figure out what the message of the book was.